Coach Brian Smith to chat today; Today's Video
March 12th, 2008
Offensive line coach Brian Smith is today's chat guest.
The chat will begin at about 3:30 p.m.
* * *
Adam Leonard's Section 8 team won today's Super Games competition — wheel-barrel racing.
http://honoluluadvertiser.com/apps/pbcs.dll/article?AID=/20080312/VIDEO05/80312060
Leila's note: Some pictures (sorry they are blurry)
Greg Salas and Solomon Elimimian

Ryan Mouton and Malcolm Lane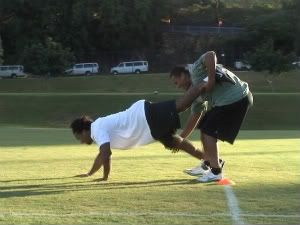 * * *
We can understand why interim athletic director Carl Clapp is representing the athletic department at the WAC basketball tournament in New Mexico.
But why is Clapp, not Jim Donovan, scheduled to represent UH at next month's NCAA Final Four, which serves as an NCAA convention?And, yes, the reservations were just made. Donovan is expected to be named the UH AD at a Board of Regents meeting tomorrow or Friday.
* * *
The painters are working on the athletic director's office today. It should be ready for Donovan.
* * *
Safety Keao Monteilh appears to have fully recovered from a broken shoulder blade.
Monteilh recently bench pressed 315 pounds.
* * *
You know, you report on a person for nine years and yet, you find an e-mail like this:
J David send this to Steven Sai ...
It was from June Jones.